[an error occurred while processing the directive]
South Carolina Troubled Teen Boarding School
"Teaching respect, honor, and integrity in the traditions of the old South"
This troubled teen school is located just an hour south of Greenville, South Carolina in a beautiful rural community. The spacious and peaceful campus creates and environment that welcomes dramatic change and the creation of a new and vibrant way of living. Facilities include outdoor recreation fields for soccer, football, baseball, basketball, and volleyball.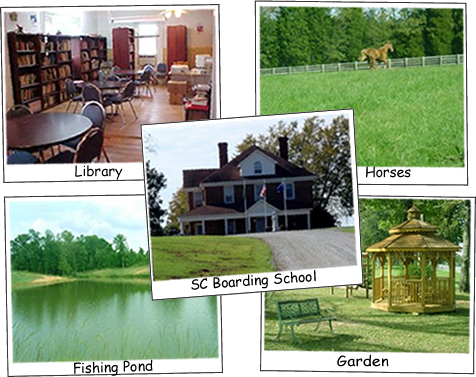 A proven academic program emphasizing the core subjects allows youth to complete courses on an accelerated basis while ensuring a proficient understanding of the subject material. In addition to the academic curriculum, students attend daily personal development courses which utilize educational and inspiring audio and video presentations, reading material, and workshops. Youth also attend Premier educational seminars where they participate in many experiential activities designed to help youth internalize the concepts of accountability, honesty, integrity, trust, choices, responsibility, anger management, and self-esteem.
Teens learn about the positive and negative consequences of their actions through an integrated merit system. As the youth work hard, confront their issues, and take accountability for their actions, they will earn increased status and privileges. When they behave inappropriately, they receive demerits which can result in the loss of privileges or additional work and assignments.
Twelve step programs (Narcotics Anonymous and Alcoholics Anonymous) are available for those teens struggling with substance experimentation or abuse. Optional professional counseling is also available on campus.
Unique to this facility is a comprehensive equestrian program. Participation in the equestrian program is optional and is only available to teens who have achieved upper level status. For youth interested in horsemanship, the equestrian program can be a powerful motivator to achieve results more quickly. Teens involved in this program spend a total of six hours per week riding, grooming, and learning about horses.
Families are encouraged to be actively involved in the change process and are an integral part of the program's success. Parent-child seminars assist to improve family communication and also encourage family reunification and strengthening of relationships.
South Carolina Boarding School Fees:
Have Someone Contact You About This School